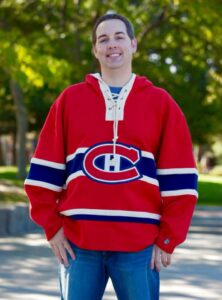 He was born in Newburyport on May 24, 1979 to Raymond A. Perkins and the late Elizabeth (Kelleher) Perkins. Sean was raised and educated in Newburyport, graduating from Newburyport High School, class of 1998. During his high school years, Sean was a four-year varsity stand-out first baseman for the Newburyport Clippers baseball team. Playing alongside his best friend Grant Smith, Sean and Grant set many Clipper baseball records. He was an All-Star his sophomore year, an All-League his junior and senior years and was a two-time Bay State Games player his junior and senior years. He was also chosen to play in the Agganis Games. He had baseball scholarship offers from over 200 universities and colleges to play baseball, but instead, decided to further his education, graduating from Merrimack College, class of 2002.
Sean's drive to be in the Real Estate business began in college, interning at Stone Ridge Properties at the age of 21. He continued his career with Stone Ridge Properties for 16 years, becoming an owner in 2010. Sean enjoyed working with his Dad and the two often could be found playing golf, riding their motorcycles, and watching and attending games for New England sports teams together. He especially enjoyed spending time with his sister Alex, brother-in-law Todd, and his nephews, Travis and Trevor. His highlight each year was his annual trip to Arizona with his father to attend spring training baseball games, where they made many lifelong friendships.
In addition to his father, Raymond A. Perkins, Sean is survived by his wife, Diann May of Newburyport; his sister Alexandra Perkins Carpenter, her husband Todd of N.C., as well as nephews, Travis and Trevor Carpenter; his uncle Walter J. Perkins and his wife Maria; his aunt Margaret McClure; his uncle Peter Kelleher; and many cousins. Other family members include Gary and Aprell Twombly, and Sheila and Bryon Hedley.
Sean was kind, gentle, respectful, and funny. He was generous to all. The family is overwhelmed by the amount of well wishes and support they have received from friends and the public. The family is humbled by the amount of people that were touched by him or just cared so much about him.